Widgets: Make your Desire to Grow Your Professional Network Better Known
Letslunch is now offering widgets that allow you to display your lunch availability on your blog, on social media or on your website. Now great professionals who read about you on your blog or website can easily reach out and meet with you. All you need to do is copy and paste the code from our 'Widgets' tab under resources and you're ready to go!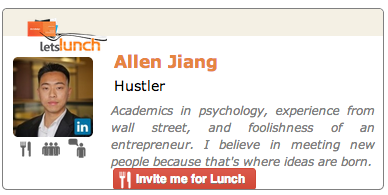 Are you with a great company that is looking to make new business contacts? You can now display the Letslunch profiles of employees who are looking to meet new contacts for lunch. Check out this amazing example of a recruiting firm called Rockit Recruiting, http://rockitrecruiting.com/careers-lunched/. Potential clients who are already perusing your website now have a simple way to reach out to you right then.


Another great way to use widgets is for groups. Say your organization, such as the 'FounderInstitute,' http://LetsLunch.com/FI wants to promote their Letslunch group as well as their own members who are open to a networking lunch. Now members who are available for networking lunches can be prominently displayed on your organization's website and easily discovered by other members or potential new members of your organization.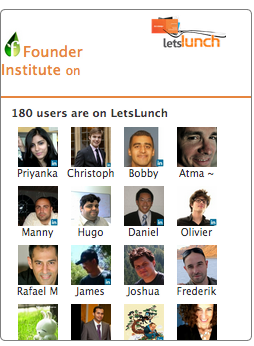 Lastly, don't forget to try a Letslunch widget for job seekers and recruiters. If you are looking for a new job, make sure and put your Letslunch profile on your website or blog. If you are a recruiter, place your Letslunch profile on your website and make it easy for the talent to come to you!