We're All About the Features
Those of you that Like us on Facebook have been well informed of our latest features. If you don't like us yet…why not? We've been very busy over the summer perfecting the Letslunch user experience by adding features and tweaking the scheduling process. We didn't want to let that hard work go unrecognized so here's a post to keep our blog community in the know.
The first suite of changes were designed to let users find each other easily on the site and to move towards a Letslunch world that's a little less random. Users can now see each others Lunch Radius, Upcoming Open Lunches, and add others to their Wish List. These changes will help users get lunches with people they find interesting and lead to a decentralized matching process. It will also help ensure you get more relevant lunches but don't rule out our algorithm's ability to introduce you to great people.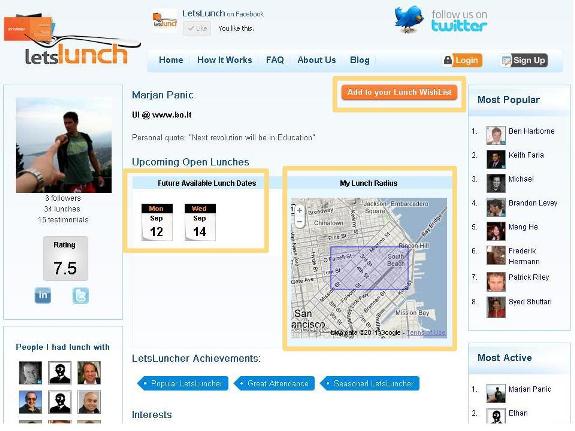 The second batch improved the scheduling process by allowing users to reschedule a lunch rather than canceling and to change their lunch venue. Speaking of venues, we've increased the list of restaurant suggestions to help you find the right place.
We've also addressed how you communicate and share contact information with your Lunch Match. Your email and phone number can now be automatically exchanged through our scheduling emails. Pump the breaks Anonymous…we also added new privacy features which allow you to control if this information is shared. See the screenshots below to learn how to keep your contact information private and to find out about our other great privacy features.
Access your privacy settings from your LetsLunch profile page: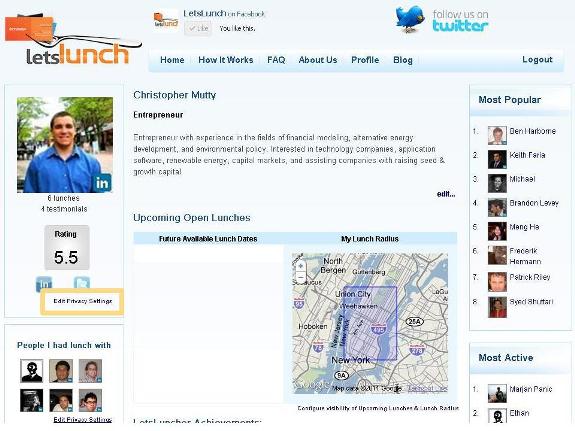 Select the "Privacy Tab":
Adjust your settings to control who can see your name, phone number, email, social accounts, upcoming lunches, and more: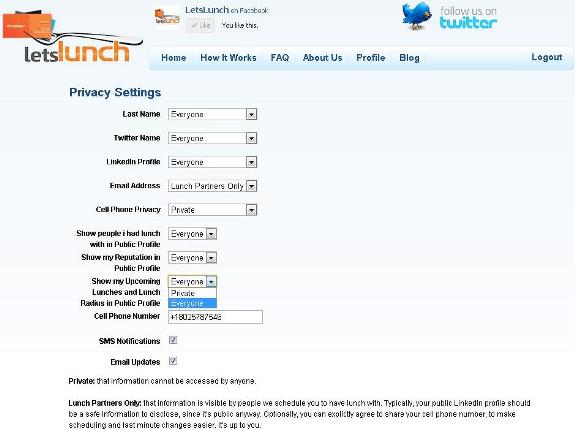 Don't forget, you can always anonymously text your lunch mate if you'd prefer that method of communication.